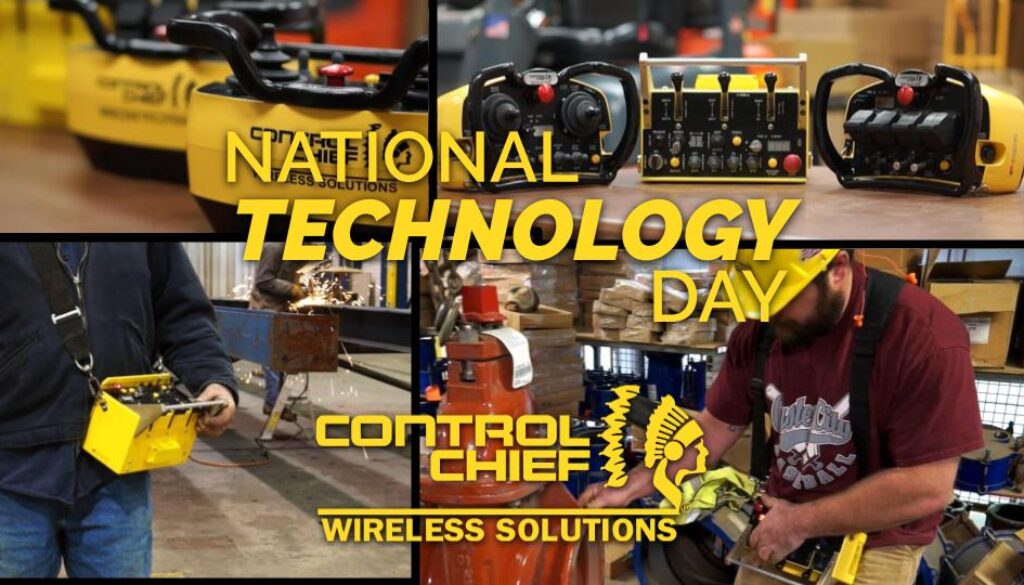 National Technology Day recognizes how technology changes the world, and looks to the future of tech.. Control Chief is proud to be on the cutting edge of industrial remote control technology, and we salute the engineers and tech workers who help us design, build, and service our wireless solutions.
Control Chief's team is known for our commitment to technology. Our engineers are constantly developing new ways to help our customers interface with their work, using our state-of-the art wireless technology.

Our customer service and support technicians are known as the best in the industry at keeping your technology running with maximum uptime.
Our production staff has been leading the industry with 50+ years of American Craftsmanship, building wireless remote control technology from technical specs to circuit boards to completion.
Technology is all around us
In 2022, We use technology in every aspect of our lives. From the alarm clock app on your cell phone, the circuit board that runs your coffee maker, your electric toothbrush, and the dashboard computer in your car – we see how technology has become integrated into our lives.
What is National Technology Day?
National Technology Day is our chance to reflect on the way we depend on technology, and to think about the workers who create and maintain it.
AXEL, a technology-based company, headquartered out of Las Vegas, founded National Technology Day.
The day was officially declared in 2016.
Careers in Technology
At Control Chief, we occasionally have job openings for technology-trained individuals. From servicing and installing remote control equipment at customer locations in the field, to designing, building, and selling that equipment here at our Bradford, PA headquarters. Stay up to date on our employment opportunities at our Careers Page on our website.
Control Chief is proud to be pioneers in wireless technology, and we salute all of those in working in technology on this National Technology Day 2022!