Control Chief is proud to serve the agricultural industry, and we join with Americans nationwide as we recognize National Agriculture Week.
How does Control Chief benefit agriculture?
Our locomotive remote control systems and shiploader remote control systems are vital to the transportation of grain. Many of our agricultural customers use our products to load and offload railcars and barges with tons of grain.

We are proud to bring our American Craftsmanship to the ag industry.
Later this week, we will be attending GEAPS Exchange 2022, an opportunity to connect with the grain and agriculture industry.
National Agriculture Week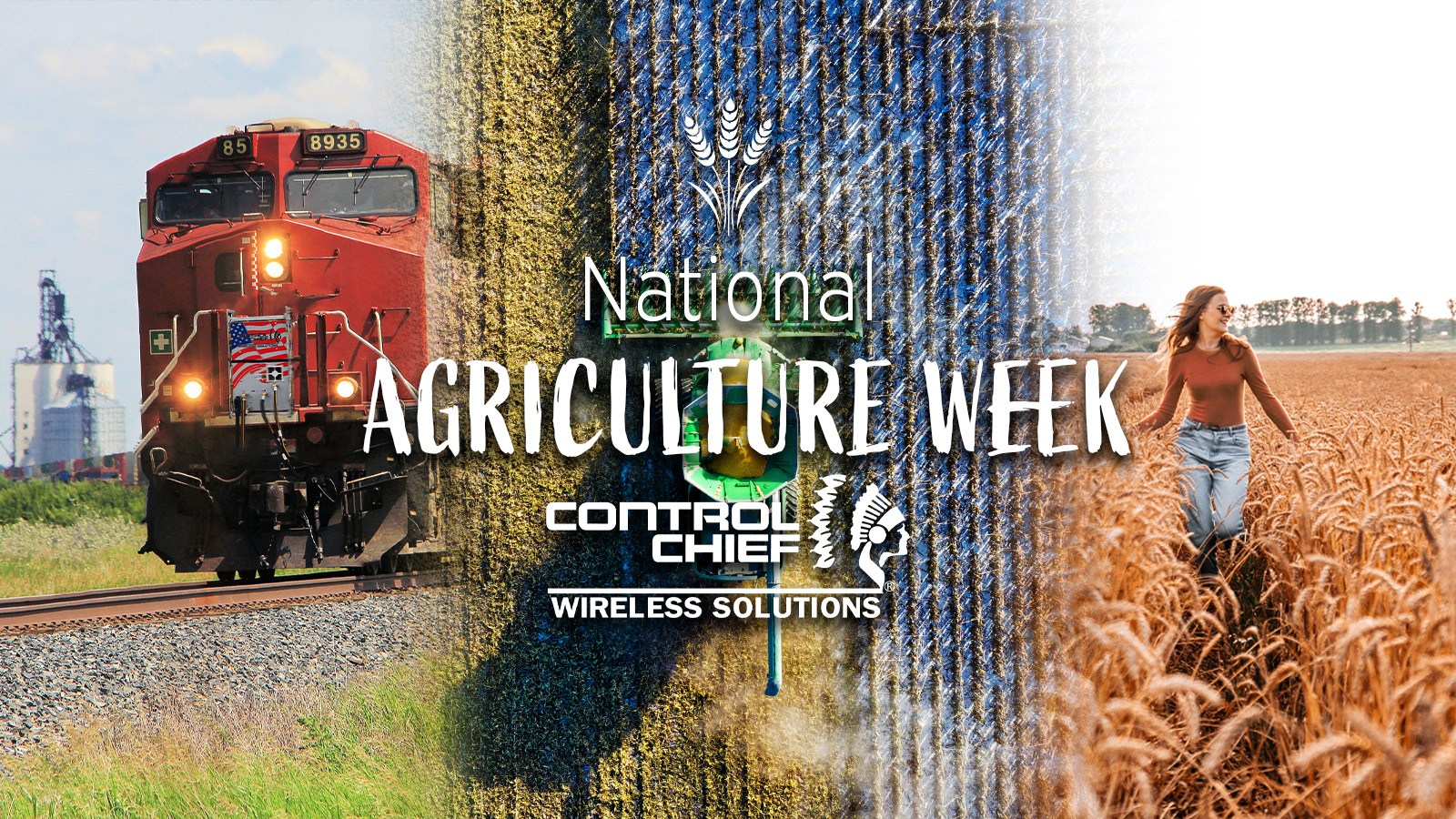 The celebration of National Agriculture Week is about helping to educate americans on the source of food, fiber, and fuel.

How to observe #NationalAgricultureWeek
Attend a local Ag Day event hosted by Future Farmers of America, National Farm Bureau, or National Farmers Union.
Share your experiences with agriculture.
Host a webinar, seminar, or forum discussing agriculture.
Join a discussion about the future of agriculture.
Discover new technology that advances and improves agriculture.
Talk to a farmer.
Share events and photos using #AgWeek on social media.
Use the week to follow a new influencer, such as The Farmer's Life or Farm Babe.
Download a new podcast, such as Agriculture Proud or The AgVocate.
The Agriculture Council of America is a nonprofit organization dedicated to increasing the public's awareness of agriculture's role in modern society.
March 22, 2022 is National Agriculture day – hosted by The Agriculture Council of America.
This year's Ag Day theme is "Growing a CLimate for Tomorrow"
The goal of National Agriculture say is to tell the true story of American agriculture and to remind citizens that agriculture is a part of all of us.
The ACA is a nonprofit organization composed of leaders in the agricultural, food and fiber community, dedicating its efforts to increasing the public's awareness of agriculture's role in modern society.
National Agriculture Day is meant to empower every American to:
Understand how food and fiber products are produced
Appreciate the role agriculture plays in providing safe, abundant and affordable products
Value the essential role of agriculture in maintaining a strong economy
Acknowledge and consider career opportunities in the agriculture, food and fiber industry
Farm Facts
According to most recent U.S. Census Bureau statistics, 386,531 men are working as farmers and ranchers.
Additionally, 51,865 women are working as farmers and ranchers.
Today, a farmer grows twice as much food as his parents did – using less land, energy, water, and fewer emissions.
Today, the average U.S. farmer feeds 155 people. In 1960, a farmer fed just 26 people.
To keep up with population growth, more food will have to be produced in the next 50 years than the past 10,000 years combined.
U.S. farmers produce about 40 percent of the world's corn, using only 20 percent of the total area harvested in the world.
According to the USDA, one acre of corn removes about 8 tons of carbon dioxide from the air in a growing season. At 180 bushels per acre, corn produces enough oxygen to supply a year's needs for 131 people.