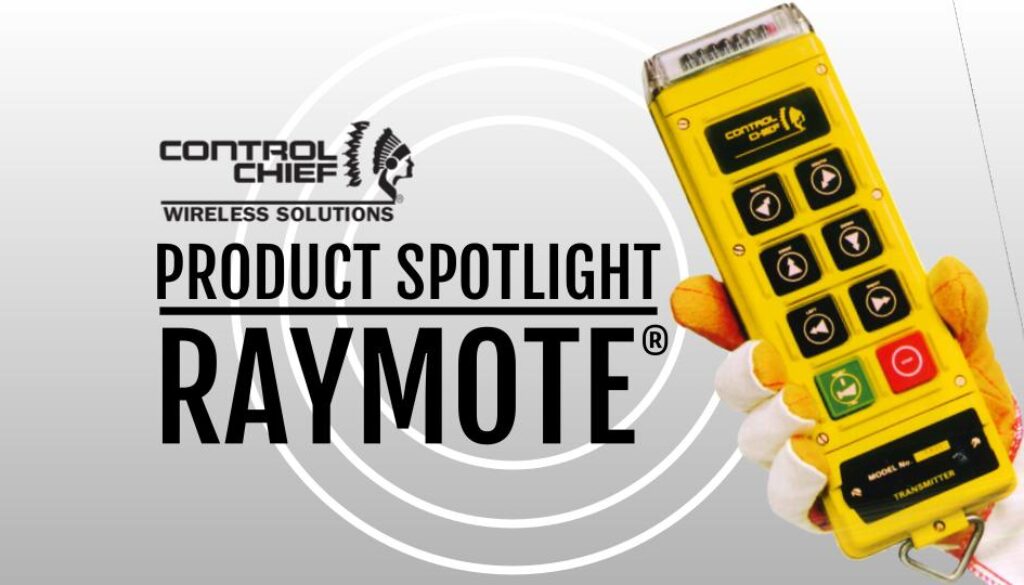 Control Chief Wireless Solutions has been providing industrial remote controls since 1971.


Control Chief Raymote® Infrared Remote Control

Our product spotlight this month is our infrared remote control system, the Raymote®.

When radio remote control units won't do the job, the Raymote® will allow you to operate overhead cranes, hoists, shiploaders and other equipment.
The Raymote® eliminates the need for wires and cables, like the kind used on a traditional pendant controller, and communicates via IR signal to allow the operator to work at a safe distance.
An unobstructed line of sight between the transmitter and receiver is recommended for the Raymote®, as infrared technology is most reliable and safest with a clear sight line.


Infrared Remote Control Without RF Interference

Radio interference can cause problems for many traditional industrial remote controls in certain conditions, which is why the Raymote's® infrared light technology sets it apart. Immune to radio frequency interference, the transmitter sends signals to strategically placed IR sensors, which relay information to the receiver to operate the equipment.

Multiple Raymote® systems can be used in the same facility, allowing for independent configuration, or a single transmitter can be configured to control multiple systems.
Infrared Remote Control Receivers are Reliable
The Raymote® receivers verify and decode the infrared commands through the help of an advanced microprocessor, which helps to make sure the equipment is safe and reliable. If the processor detects a fault, the equipment is automatically slowed or shut down.

Benefits of Raymote® Infrared Technology
Line of site safety
No radio frequency interference
No FCC license required
No cables to snag on equipment or maintain
Easy to install and cost-effective to maintain
Uses affordable, off-the-shelf battery power
Controllable sensor placement lets you define operational area
Rugged, high-impact plastic transmitter
Multiple system capability
Simultaneous command capability
Increases operator safety and productivity
Choose the Raymote® Infrared Remote Control System That Fits Your Operation
Raymote® Infrared Remote Control Systems can operate equipment in most industrial applications. Control Chief will help you determine the Raymote® system that's best for your equipment and operating environment. Then we'll work with you to install the system, train your people, and provide ongoing product support.


For more information on how Raymote® systems can work for you, Contact Mark – or call us at 1-800-233-3016.
Raymote 2000
Controls up to eight individual relays
Choose from three different industrial grade, hand-held transmitter models
Integral sensor with receiver
External sensors available
Operating range of 100 feet
Raymote 4002
Designed for operating cranes with 2-speed motors
Double detent motor control push buttons on transmitter
System diagnostics
E-stop function
Programmable alert function
Operating range of 100 feet
Sensor placement permits operating range modification and can even "see around corners" with additional sensors
Raymote 6000
Designed to operate up to five 2-speed motors
Full system diagnostics
E-stop function
Programmable alert function
Auxiliary functions can be added
Motherboard design
Operating range up to 150 feet
Sensor placement permits operating range modification – and can even "see around corners" with additional sensors
Raymote 7000
Designed for remote operation of 5-speed cranes
Can control up to five 3-speed or four 5-speed motors
Full system diagnostics
Rechargeable battery power
E-stop function
Programmable alert function
Programmable motor sequencing
Auxiliary functions can be added
Motherboard design
Operating range up to 150 feet
Sensor placement permits operating range modification – and can even "see around corners" with additional sensors
Raymote 8000
Designed for use of 2-speed or 3-speed cranes
Can control up to five 2-speed or 3-speed motors
Heavy gauge aluminum transmitter with NiCad rechargeable batteries
Seven-position control switches
Full system diagnostics
Rechargeable battery power
E-stop function
Programmable alert function
Programmable motor sequencing
Auxiliary functions can be added
Motherboard design
Operating range up to 150 feet
Sensor placement permits operating range modification – and can even "see around corners" with additional sensors