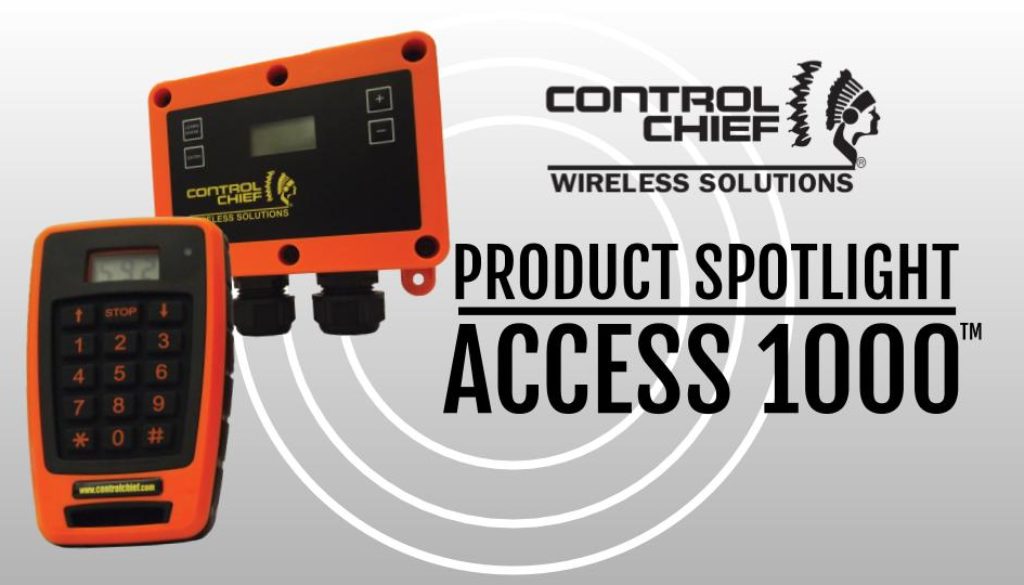 Overhead Door Remote Control
Control Chief's Access 1000™ is a rugged handheld industrial remote control system for commercial doors, gates, furnace doors and more.

This robust transmitter design incorporates 24 bit security encryption and 900 megahertz duplex radio technology ensuring the safest and most reliable system on the market today.

Industrial Remote Control Door Opener
Using the optional 12 volt power cradle that mounts to any forklift or mobile equipment, the Access 1000™ is a perfect solution for warehouses and distribution centers.


Fire Station Door Remote Control
The  Access 1000™  has been used in many industrial applications, but is also used by many first responders and fire departments to control their overhead doors, which reduces response time and helps them get their trucks in and out of the station faster.
Open up to 1000 Overhead Doors with One Remote Control Transmitter

With a single transmitter, the operator has access to control up to 1000 overhead doors and other devices without the need to leave their equipment.

The durable construction and IP65 rating of the Access 1000™ makes it perfectly suited for demanding industrial environments.
The Control Chief Access 1000™ is a versatile and secure industrial remote control system
The receiver is equipped with a detachable memory card for business critical applications using a large base of transmitters.

This durable and user friendly system is capable of operating up to 1000 industrial overhead doors, gates and other devices.

The Access 1000 system is secured using 16.7 million unique address codes and in pincode lockable to prevent unauthorized configuration.

Keep your operations running securely, safely, and efficiently with the Access 1000™ from Control Chief Wireless Solutions.