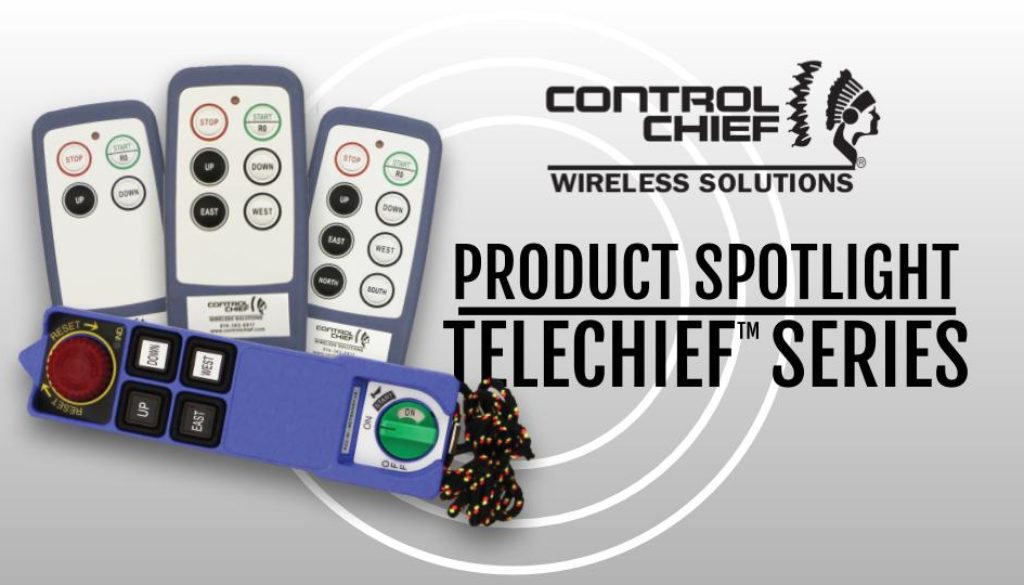 Product Spotlight: Telechief™ Series Industrial Remote Controls
The Telechief series of industrial remote controls by Control Chief are our most affordable remote control system.

The rugged, weather resistant remote controls give operators safe, convenient control from up to 328 feet, and can be used in many different applications. The Telechief remote control receivers can be configured to work with AC or DC systems, and they can be configured for your unique environment.

Control Chief can customize a matrix if you are using multiple receivers for different pieces of equipment, so that you never have to worry about interference.

These remote controls are often used to replace pendant controllers on small cranes, hoists, conveyors, lift tables, and other equipment, adding range of motion and allowing the operator to work from a safe vantage point.
Many of our customers in the aggregate industry use our Telechief ™ remote controls in their mining and gravel operations to control various equipment.

Commonly, the Telechief ™ is used for shaker tables, conveyors, lifts, hoppers, and other equipment that needs to be activated safely and efficiently.

Remote Controls For Concrete Batch Plants
The Telechief ™ systems are also commonly used in concrete batch plants, to control conveyors, turntables, and concrete mixing equipment.

You may find a Telechief ™ system on an industrial tow truck or plow, allowing the operator to engage their equipment from the cab, or from a safe distance.
Telechief ™ remote controls have also been used often for vacuum trucks and pumper trucks, as it allows the operator freedom to engage the equipment from a safe distance.
The Telechief ™ has been used on boom trucks as well, operating a hoist or lift on a truck to load or offload cargo items.

Remote Control Door and Gate Openers
The Telechief ™ controls also can be used to open gates and doors, especially when a simple two button control is needed.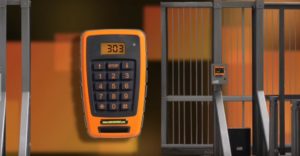 Control Chief also has the Access 1000™ – a complete remote control door opening system capable of opening up to 1000 doors with just one remote.
Telechief™ TM2000 / TM4000 / TM6000
The Telechief® Series are compact, hand-held 4, 6, and 8 button radio remote controls that are suited to a variety of remote control applications. These controls are an ideal solution for (but not limited to) lift tables, transfer cards, chain hoists, boat ramps, conveyor systems, and tailgate lifts.

These Telechief™ remote controls have 80 operating channels, error detection and correction, and a durable glass fiber and ABS construction with a NEMA 4/IP65 rated enclosure. .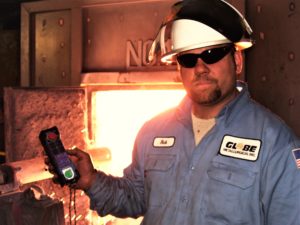 Telechief ™ TM2200DHT
The Control Chief Telechief™ TM2200DHT is a hand-held, 2-speed, industrial remote control in a compact, rugged system ideal for boat lifts, winches, gates and other applications.

These rugged, weather-resistant remote controls can provide your operators safe, convenient control over 300 feet. This 2-speed system is a compact, hand-held radio remote control system that is suited for (but not limited to) hoist and trolley applications.
The TM2200DHT is water resistant and has a NEMA 4/IP65 rated enclosure. It includes a removable magnetic key and a large red emergency stop button.

The 2 speed pushbutton remotes also feature 32~bit security code (4.1 billion addresses) and error detection and correction.