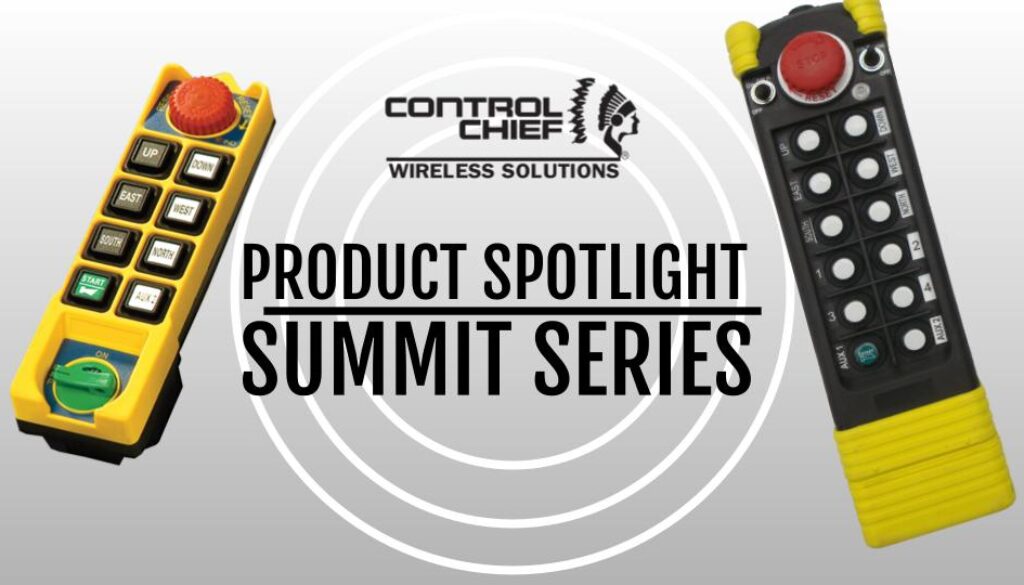 Control Chief Wireless Solutions has been providing industrial remote controls to many different industries since 1971.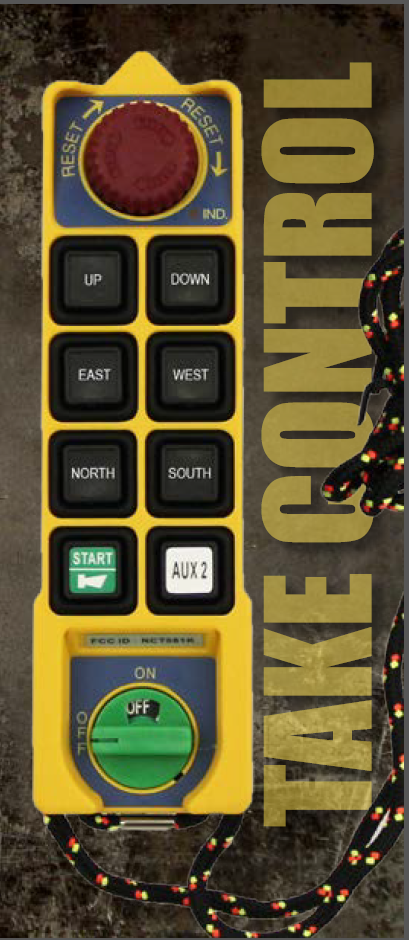 The Summit Series industrial remote control puts you in total control of your equipment from a safe vantage point on the plant floor. Using wireless technology, the remote control can be used to control equipment from a long range of up to 1000 feet.

Our wireless remote controller is safer than a wired pendant controller, which can be caught in machinery, cause a trip hazard, or can be frayed and damaged from repeated use. With simple to use Control Chief wireless technology, those hazards are eliminated.
Two different transmitters/receiver systems are included in the Summit Series – SK2400 and the SK2500.
Both the Summit Series SK2400 and the SK2500 transmitters are IP65 rated weather-resistant. The transmitters are equipped with 32 bit security, 70 operating channels, and a red mushroom push-button stop.

The primary difference between the two controllers is that the SK2400 can be configured for two speed four-motion controls, and the SK2500 can be configured for two speed six-motion controls with dual hoist/trolley options.
Summit Series Industrial Remote Control Receiver
The Summit Series receiver is pre-wired and available in AC or DC with an included power indicator for troubleshooting.The system is simple to install and set-up.

Control Chief Signature Support
Our Summit Series remote controls come with a 1 year warranty, and our exceptional product service and support. 
CONTROL CHIEF SUMMIT SERIES SK2400 AND SK2500 USES
Our products are used in many different applications, including in many manufacturing plants with smaller cranes, to control conveyors and elevators at stone quarries and mining operations. We also have our products in use at concrete batch plants, operating large mixing bins,  and in a number of other industrial applications.
Cranes
Conveyors
Lights
Signals
Stackers
Plasma Cutters
Winches
Gates
Elevators
Feeders
Coil Cars
Lifts
Tilt Beds
Booms
Washers
Vacuums
Machine Controls
Tracked Vehicles
Hoists
and MORE!