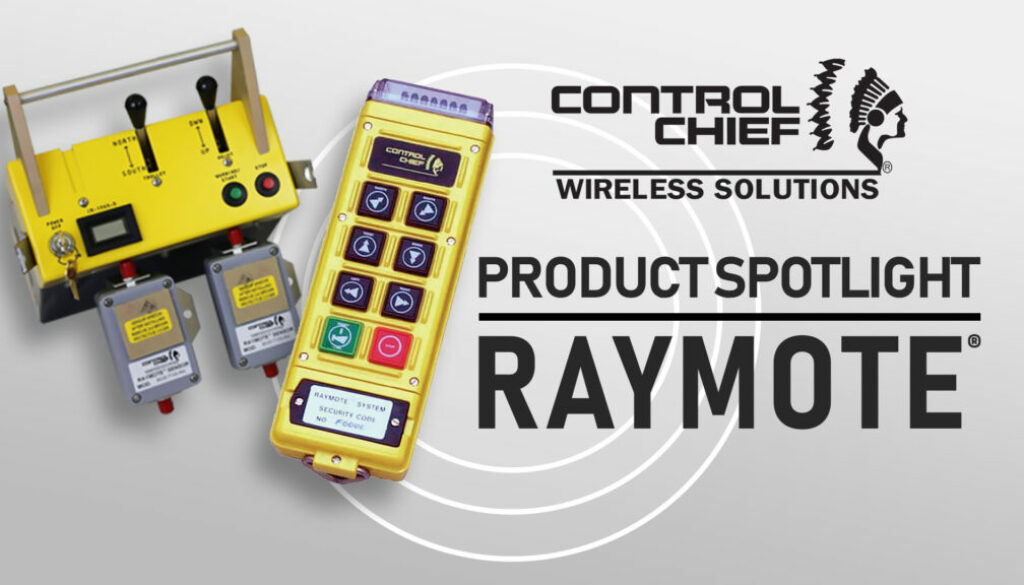 Product Spotlight: Raymote Infrared Remote Control System
Control Chief Wireless Solutions has been providing industrial remote controls to many different industries since 1971. Our product spotlight this month is the Raymote, our Infrared Remote Controls.

Control Chief Raymote Infrared Remote Control Technology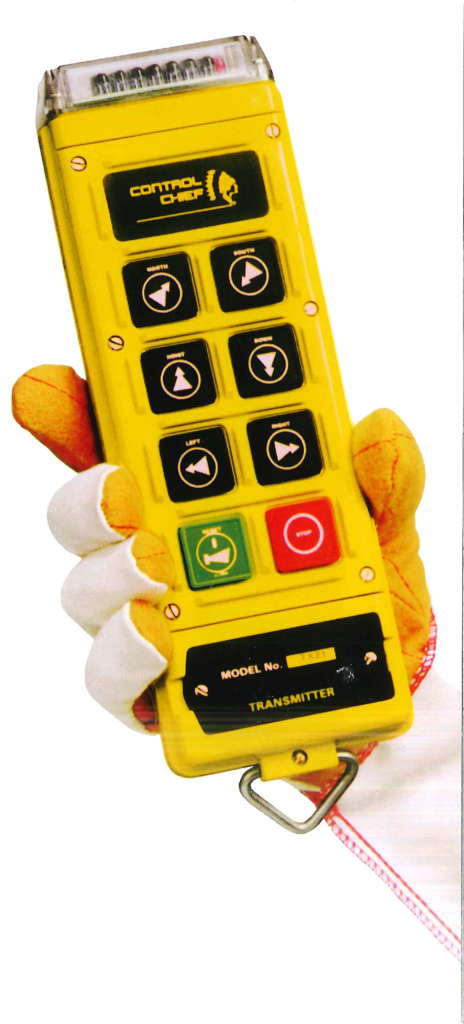 Raymote Infrared Remote control systems are designed to operate in any place you want to eliminate wires and cables and maintain safe, reliable remote operation. For maximum safety, Raymote systems will not function when the operator's view is obstructed, making them ideal for use with overhead cranes, hoists, and other equipment where the operator's ability to see and assess the situation is essential.

Infrared Remote Control Without Radio Interference
Raymote systems use infrared light that operates within a wavelength immune to radio frequency interference. The operator's transmitter sends commands via infrared signals to strategically placed sensors. These sensors relay information to the receiver that operates the equipment. The infrared transmission waves allow the operator greater freedom in positioning. The transmitter does not have to be aimed directly at the sensor, but the system will not operate when the sensor is out of view.

In addition, Raymote systems can operate side by side, and multiple systems can be controlled from a single transmitter.

Reliability on the Receiving End
All Raymote receivers feature an advanced microprocessor that verifies and decodes the infrared commands before any operation is engaged. At the same time, the microprocessor monitores the output relay status and if it detects a fault, the equipment is safely slowed or shut down completely.

Discover all the Benefits of Raymote Infrared Technology
Line of site safety
No radio frequency interference
No FCC license required
No cables to snag on equipment or maintain
Easy to install and cost-effective to maintain
Uses affordable, off-the-shelf battery power
Controllable sensor placement lets you define operational area
Rugged, high-impact plastic transmitter
Multiple system capability
Simultaneous command capability
Increases operator safety and productivity
Choose the Raymote Infrared Remote Control System That Fits Your Operation
Raymote Infrared Remote Control Systems can operate equipment in most industrial applications. Control Chief will help you determine the Raymote system that's best for your equipment and operating environment. Then we'll work with you to install the system, train your people, and provide ongoing product support.



For more information on how Raymote systems can work for you, Contact Greg or Mark –
or call us at 1-800-233-3016.
Raymote 2000
Controls up to eight individual relays
Choose from three different industrial grade, hand-held transmitter models
Integral sensor with receiver
External sensors available
Operating range of 100 feet
Raymote 4002
Designed for operating cranes with 2-speed motors
Double detent motor control push buttons on transmitter
System diagnostics
E-stop function
Programmable alert function
Operating range of 100 feet
Sensor placement permits operating range modification and can even "see around corners" with additional sensors
Raymote 6000
Designed to operate up to five 2-speed motors
Full system diagnostics
E-stop function
Programmable alert function
Auxiliary functions can be added
Motherboard design
Operating range up to 150 feet
Sensor placement permits operating range modification – and can even "see around corners" with additional sensors
Raymote 7000
Designed for remote operation of 5-speed cranes
Can control up to five 3-speed or four 5-speed motors
Full system diagnostics
Rechargeable battery power
E-stop function
Programmable alert function
Programmable motor sequencing
Auxiliary functions can be added
Motherboard design
Operating range up to 150 feet
Sensor placement permits operating range modification – and can even "see around corners" with additional sensors
Raymote 8000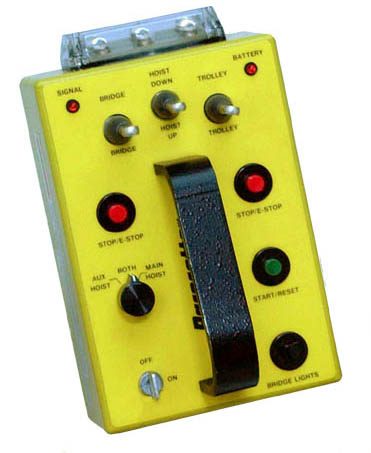 Designed for use of 2-speed or 3-speed cranes
Can control up to five 2-speed or 3-speed motors
Heavy gauge aluminum transmitter with NiCad rechargeable batteries
Seven-position control switches
Full system diagnostics
Rechargeable battery power
E-stop function
Programmable alert function
Programmable motor sequencing
Auxiliary functions can be added
Motherboard design
Operating range up to 150 feet
Sensor placement permits operating range modification – and can even "see around corners" with additional sensors