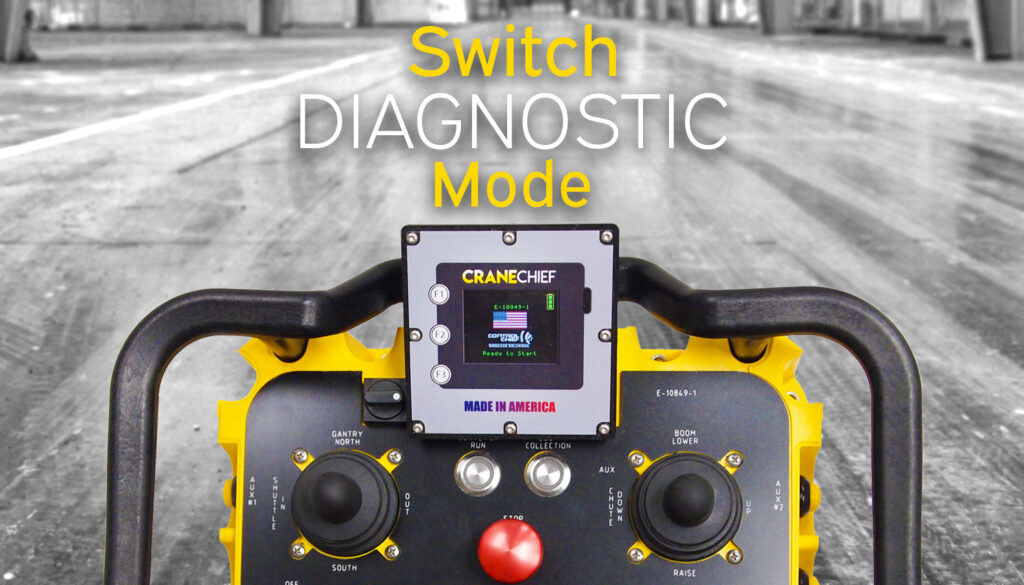 Control Chief crane remote controls are enabled with a Switch Diagnostic Mode.

Each Advantage and CraneChief Series transmitter incorporates a Switch Diagnostic Mode. This allows each switch position on the transmitter to be evaluated and can save crucial time during the troubleshooting process.
To enter the switch Diagnostic Mode on a Control Chief Crane Remote Control Transmitter
Make Sure the Red Stop switch has been depressed.
If the transmitter is powered on then turn the power key switch off.
Re-apply power to the transmitter by turning the power key switch to the on position.
Press and hold the Start button on the transmitter.
After about 3 seconds the transmitter will give three audible beeps and enter the Switch Diagnostic Mode.
Each switch can then be tested.
The display will read out the CPU board connector identifier for each switch.
To exit Switch Diagnostic Mode
Turn off the power key switch.
Turn the Power Key Switch back on
Lift the Red Stop switch.