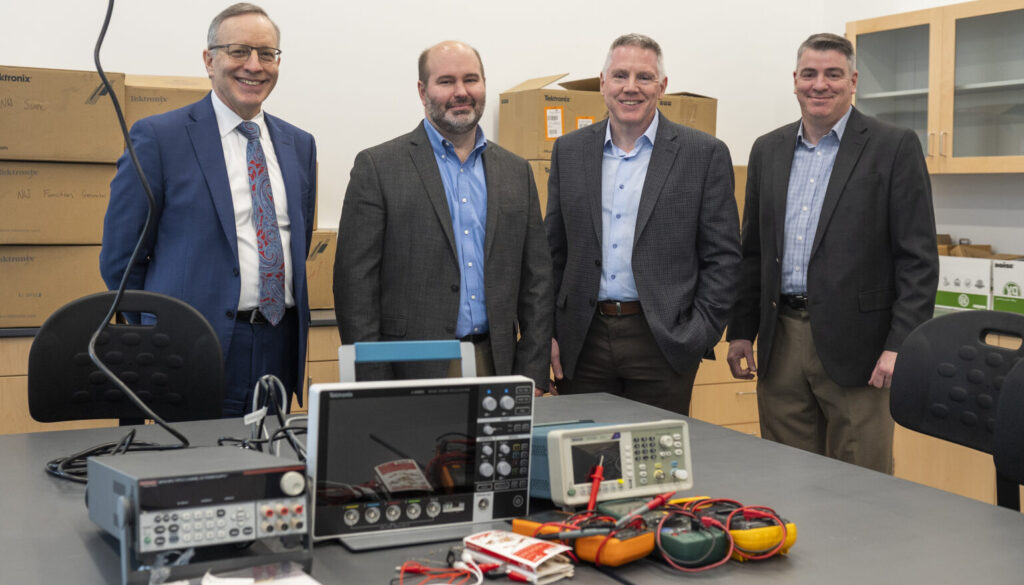 BRADFORD, Pa. – Control Chief Corp. of Bradford has made a gift to the University of Pittsburgh at Bradford to support the university's new four-year engineering technology programs and the George B. Duke Engineering and Information Technologies Building.
In appreciation for its gift, the electronics lab is being named for Control Chief Corp. The electronics lab — with its soldering kits, function generators, analog and digital microcontrollers, power supply and oscilloscopes – was a natural choice for the company.
"We use those exact pieces of equipment here at Control Chief every day," said Jake Bryner, chief technology officer at the Bradford business that makes remote controls for industrial uses such as large overhead cranes and locomotives. Many of the remotes that Control Chief engineers and manufactures are made to order for customers, a process that is engineering intensive.
For that reason, Bryner and his fellow managing partners, Tim Bean, chief financial officer and a Pitt-Bradford alumnus, and Brian Landries, chief marketing officer, have a personal stake in Pitt-Bradford's new engineering technology programs.
"We're always looking for engineers because that's what we do," said Bryner, who is pleased that Pitt-Bradford is offering engineering technology programs, which emphasize hands-on applied technology over theory. Those with engineering technology degrees can do most things that engineering graduates can do, including designing and fabricating, managing automated machinery, overseeing an industrial process, or developing a new one.
"Having students who have practical experience is what I want as an employer," Bryner said.
Bean, who also sits on the Pennsylvania Workforce Development Board, said, "It's a real, tangible, technical degree."
The partners are also looking forward to hiring interns and future graduates. "There's a greater opportunity to recruit someone who already knows the area," Bean said.
Landries added, "These programs will be a sustainable resource in our area to recruit and retain employees. When we heard about this program, our interest was piqued."
After touring the completed building, which opened Jan. 9, Landries said the partners were impressed with the equipment students would be using.
Control Chief was one of several area industries that consulted with Dr. Matt Kropf, associate professor of engineering technology, as he designed the new mechanical engineering technology and energy engineering technology curriculums and wrote the specifications for lab equipment.
For years, Control Chief, as well as many other businesses and industries in the region and in Pennsylvania, have had difficulty recruiting well-trained engineers, said Pitt-Bradford President Rick Esch.
"Offering two new engineering technology programs in a new facility specifically built and equipped to provide hands-on learning opportunities will enable us to prepare engineering technology graduates to meet the workforce needs of area manufacturers and industries and infuse their creativity, enthusiasm and innovation into our region and beyond," Esch said.
"We are grateful that Control Chief is investing in the future of innovation at Pitt-Bradford and in our region. Our friends at Control Chief join several other business and industry partners in the region in supporting this new building as well as the development of the two new engineering technology majors."
In addition to the mechanical and energy engineering technology majors, the Duke Building is home to several existing programs at Pitt-Bradford: computer information systems and technology, energy science and technology, information systems, and two-year engineering programs that require students to transfer for completion.
Other areas in the 40,000-square-foot, state-of-the-art building include a measurements lab; machine shop; strength and materials lab; fluid dynamics lab; makerspace; an expanded systems, networks and projects (SNAP) lab; a virtual reality lab; and shared spaces for studying and small-group collaboration.
A dedication for the Duke Building will be held at 3 p.m. March 31, giving area residents the opportunity to tour the building. For more information on the new building or Pitt-Bradford's engineering technology programs, visit www.upb.pitt.edu/engineeringbuilding.