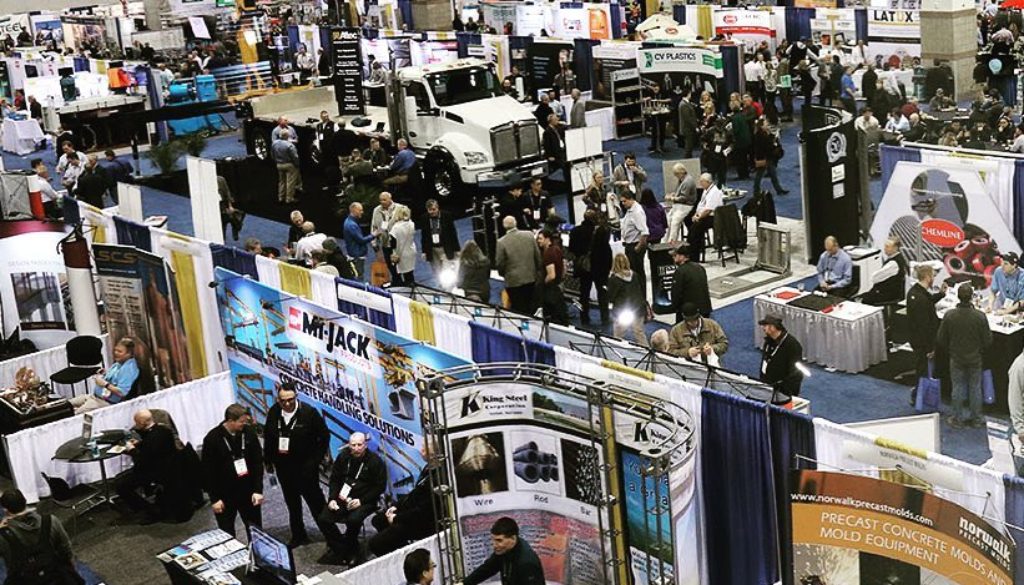 2/28/19 – 3/2/19
Kentucky International Convention Center
Louisville, KY
Booth 766

The Precast Show is the largest precast-specific trade show in North America and features suppliers and equipment experts that work in the concrete industry. The Precast Show is sponsored by the National Precast Concrete Association and the Precast Prestressed Concrete Institute with additional collaboration from the Canadian Precast Prestressed Concrete Institute and the Cast Stone Institute.
3/9/19 – 3/12/19
Ernest N. Morial Convention Center
New Orleans, LA
Booth 926
Grain Elevators and Processing Society (GEAPS) presents GEAPS Exchange 2019 to make new connections in the grain industry, find operations solutions and learn about new technologies and best practices from across the grain industry.

4/6/19 – 4/9/19
Orlando World Center Marriott
Orlando, FL
Booth 229

The American Short Line Rail Road Association presents ASLRRA Connections Convention & Exhibition 2019 showcases products like railroad based products, railroad materials, and rail services.
4/8/19 – 4/13/19
Indiana Convention Center and Lucas Oil Stadium
Indianapolis, IN
Booth 9412

Fire Department Instructors Conference (FDIC) International offers 34,000+ Fire & Rescue professionals from 65+ countries around the world, quality world-class instructors, classrooms, workshops, and fire industry experts.



5/6/19 – 5/9/19
David L. Lawrence Convention Center
Pittsburgh, PA
Booth 2126

With more than 40 countries represented annually, AISTech 2019provides a global perspective on the technology and engineering expertise necessary to power a sustainable steel industry.


9/22/19 – 9/24/19
Minneapolis Convention Center and BNSF Railway's Northtown yard
Minneapolis, MN
Booth (TBA)

The Railway Interchange 2019 exhibition showcases the latest technology, services, and research by members and supporters of the Railway Supply Institute (RSI), the Railway Engineering-Maintenance Suppliers Association (REMSA), and Railway Systems Suppliers, Inc. (RSSI). Railway Interchange 2019 also features technical and educational presentations and discussions at the Minneapolis Convention Center by members and supporters of the American Railway Engineering and Maintenance-of-Way Association (AREMA) and the Coordinated Mechanical Associations (CMA).